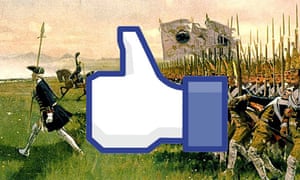 Excerpt from this article:
Constant Dullaart uses the internet to expose the internet. The Dutch artist, who once hunted down the first ever Photoshopped image – so he could see it before it was altered – is now taking on the ultimate champion of digital fantasies: Facebook.

He's hiring a ghost army of 18th-century soldiers to attack the most mighty empire of today. His online art intervention, called The Possibility of an Army, will expose the ease with which fake identities can be created online. He has enlisted people to open Facebook accounts with the names of mercenary soldiers hired by Britain in the American war of independence. He is literally creating a fake army of dead men.

…

The integrity of all that happens online seems to be crumbling. Those reviews on Amazon? A lot are fake, according to the online retailer, which is suing more than 1,000 people for their "false, misleading and inauthentic" reviews of books and other commodities. Instagram? The myth has been blown wide open – with users queuing up to reveal sadder realities behind their images using the hashtag #socialmediaisnotrealife. Are these long overdue exposures just more internet ephemera? Or could this be the beginning of the fall of social media?