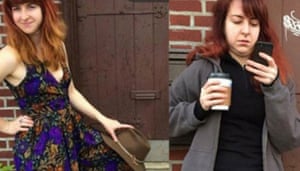 Excerpt from this article:
Surveys have suggested it takes us five attempts to style a selfie we are happy with sharing on social media, and that women can spend a staggering 48 minutes a day taking selfies. Men can take a while too, I've certainly seen a lot of men flexing in mirror selfies. Including this one, possibly the worst of all time.

Now, singletons have taken to social media to expose the discrepancy between their Tinder pictures and their more quotidian look – everyday shots of lounging around in bed, hanging with pets or grabbing a morning coffee; far from coiffed poses or club shots, a bottle of Cristal in each hand.

Using the hashtag #OnTinderAtTinder, Tinder daters, both men and women, posted their IRL vs Tinder pictures…

…Those joining in with the #OnTinderAtTinder hashtag expanded the theme to something similar to the "nailed it" meme, in which individuals mock their attempts at life hacks and cooking and fitness goals, posting pictures of their own subpar attempts.