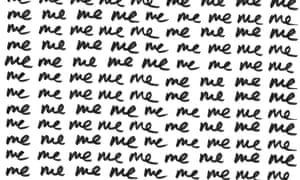 Excerpt from this article:
The damage narcissism brings can be quite amorphous and ill-defined. "Much of our distress," MacDonald notes, "comes from a sense of disconnection. We have a narcissistic society where self-promotion and individuality seem to be essential, yet in our hearts that's not what we want. We want to be part of a community, we want to be supported when we're struggling, we want a sense of belonging. Being extraordinary is not a necessary component to being loved."

The full-blown disorder is associated with harsh, critical parenting, but a mass rise in narcissistic traits is partly ascribed by MacDonald to lax and indulgent parenting: "[With] parents seeing their children as extensions of themselves – they want to be mates, the boundaries aren't set – the child gets very confused: 'You're great, you're terrific.' Maybe we're not, maybe we need to know we're just ordinary."

…

There is a context even broader than Twitter: a competitive culture in which asserting one's difference, one's specialness, is the bare minimum for being market-ready.