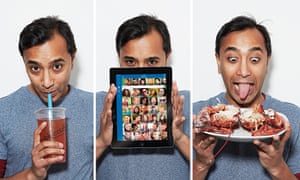 Excerpt from this article:
"There's an app for that." The punchline of our age. We have outsourced our most basic needs to the gleaming oblongs in our pockets. Whatever you need to do, eat, get, fix or have sex with, let your smartphone take the slack. Every desire is on demand.

But is it true? To put our brave new world through its paces, I'm spending an entire day living exclusively through on-demand mobile service apps to see what our lives might be like in the near-future. Spoiler: quite weird.

At 7am I'm woken by a 60-second phone call from a stranger, Dylan – in America, judging by his accent. This is Wakie, a community of people who act as each other's alarm clocks. "I'm actually Canadian," Dylan says. "Wake up!"

"Sorry," I reply. "I don't mean I'm sorry you're from Canada," I add groggily. Mild awkwardness is a great wake-up call, and 30 seconds later I'm out of bed.

First, let's get work off the table. I browse People Per Hour, a skills shop in which you can commission experienced freelancers, or "hourlies", at knock-down rates.

"Can you write my article for me?" I type. In short, yes. In addition to photographers, graphic designers and coders, there are writers who'll research and write 600-word articles for between £10 and £20. As a writer, I know this is too cheap; I feel faint stirrings of ethical unease. I commission some background research from Kuru, a PPE graduate and copywriter, and move on.