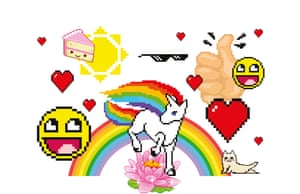 Excerpt from this article:
The idea of a "nicer" net sounds a bit twee, guaranteed to enrage libertarians who fear the creation of bland, beige safe spaces where free speech goes to die. But it's an idea with some big guns behind it, and what they are advocating isn't censorship, but smarter design. This month at the Sundance film festival, the web pioneer Tim Berners-Lee called on platforms to start building "systems that tend to produce constructive criticism and harmony, as opposed to negativity and bullying".

…For idealists such as Berners-Lee, the fact that the net has become an exhausting place to spend time is an affront to its founding values. Technology was supposed to make the world a better place, not a bitchier one. And for the big corporate players – Twitter, Instagram, online publishers and other businesses reliant on us spending more and more time online – it's a genuine commercial threat. Few users and fewer advertisers enjoy hanging out in a room full of furious people spoiling for a fight.

"If Facebook wasn't a safe place and people didn't feel they could have a conversation that's civil and respectful, why would anyone want to advertise in that place?" says Simon Milner, Facebook's director of policy for the UK, Middle East and Europe. "The two things go together. It's an important part of the business model."

This is where Civil Comments, the startup Bogdanoff founded with Christa Mrgan, comes in.

The idea is simple (although the software is so complex it took a year to build): before posting a comment in a forum or below an article, users must rate two randomly selected comments from others for quality of argument and civility (defined as an absence of personal attacks or abuse). Ratings are crunched to build up a picture of what users of any given site will tolerate, which is then useful for flagging potentially offensive material.