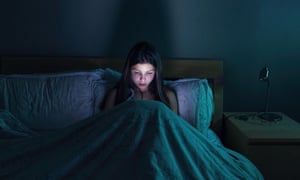 Excerpt from this article:
Parents should not constantly check their phones…

Young people need boundaries. Relying on self-management for children may not work well – when the technology is there, they tend to use it. I don't think schools should necessarily employ an outright ban but one approach might be to bring children, teachers and parents together and draw up some guidance. If children are involved in setting rules they are more likely to adhere to them and enforce them in others. They would also need to decide on sanctions for those who break them…

Banish phones at bedtime and during homework

…Parents should make sure that young people don't sleep with their phones – get an alarm clock instead. It's important to talk to young people about sleep mistakes and make sure that they have a consistent night-time routine.