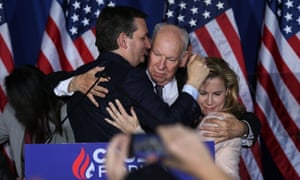 Excerpt from this article:
It's probably absurd to assume that one internet meme could end someone's political career. But what about lots of them?

"Skewered by social media memes" is the essential story of the Cruz campaign, and the gleeful and prolific satires of the ordinary citizens' online community surely played a role in exaggerating the candidate's inherent strangeness, sketching him as a grotesque figure vulnerable to his rivals.

Aside from the persistent and fascinating Zodiac killer meme galleries, here are 13 characters and animals that purportedly look like Cruz, including a blobfish, Grandpa Munster, the Penguin from Batman, and "dogs stung by bees".