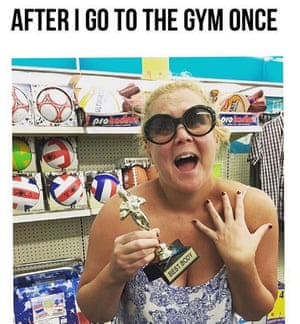 Excerpt from this article:
Social media is often called out as an outlet for bragging. Or its spin-off, the #humblebrag. We hear all the time about how the pressure to keep up with the shiny, happy people we see on Facebook is making our mental health suffer.

…A popular internet trope is now the antisocial individual, the homebody, the push back from scenesters. It's now all about revelling in singledom, jokes about therapy sessions, the terror of being an adult or putting it out there that hitting a club can actually be pretty hellish. And slumming it on the couch? Heaven.

The most popular memes on humour and pop-culture-based Instagram and Twitter accounts such as The Fat Jewish and Girl With No Job et al? Pictures of cats chilling on couches, confessions of a sub-par life and vignettes of people expressing a (sort of) joking disdain for other people. Or as one poster puts it: "God bless Uber drivers that don't attempt small talk".

…When Caterina Fake popularised the idea of (FOMO) or the fear of missing out, she wrote that the internet itself exacerbated this anxiety, and I'm sure she is right. But, in a world of constantly switched-on, ostentatious displays of popularity and people having an ostensibly TOTALLY AWESOME TIME, perhaps it isn't surprising that things would start to pitch in the opposite direction (known as JOMO, joy of missing out).