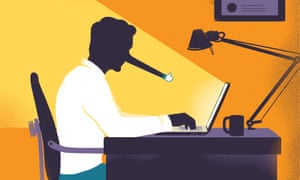 This entire article is a really great read, I wanted to excerpt the whole thing, but here is a quick sample:
"It's up to other people to decide whether they give it any credibility or not," she concluded. This was not, of course, the first time that outlandish claims were published on the basis of flimsy evidence, but this was an unusually brazen defence. It seemed that journalists were no longer required to believe their own stories to be true, nor, apparently, did they need to provide evidence. Instead it was up to the reader – who does not even know the identity of the source – to make up their own mind. But based on what? Gut instinct, intuition, mood? Does the truth matter any more?

… "If a person is not sharing a news story, it is, at its core, not news."

The increasing prevalence of this approach suggests that we are in the midst of a fundamental change in the values of journalism – a consumerist shift. Instead of strengthening social bonds, or creating an informed public, or the idea of news as a civic good, a democratic necessity, it creates gangs, which spread instant falsehoods that fit their views, reinforcing each other's beliefs, driving each other deeper into shared opinions, rather than established facts.

But the trouble is that the business model of most digital news organisations is based around clicks. News media around the world has reached a fever-pitch of frenzied binge-publishing, in order to scrape up digital advertising's pennies and cents. (And there's not much advertising to be got: in the first quarter of 2016, 85 cents of every new dollar spent in the US on online advertising went to Google and Facebook. That used to go to news publishers.)

In the news feed on your phone, all stories look the same – whether they come from a credible source or not.