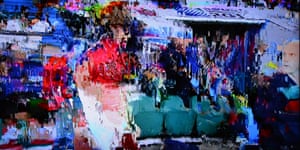 Excerpt from this article:
Disturbed by a technical glitch while watching a box set, Will Self began to consider the narrowing gap between images and real life. Is technology altering our grasp on reality?

…Let me take you back to Engrenages. My chronicle of the momentary disintegration of the image of these actors' bodies was far from exhaustive. When I described the "small massif" of skin-covered cubes, and the "iridescent smear" of interference I was struggling to devise a typology for a completely novel phenomenon; the underlying technology productive of these images is completely different from the television broadcasting of the 60s and 70s; and it seems to me that when they prove friable and fall apart, what we glimpse is precisely that underlying technology: we actually see the ulterior realm of the digital, wherein our entire reality is composed from the zeroes and ones of software machine code. To me it really does appear that way – but why? It's because of our faith, I think – not faith in an immaterial being, or a transcendent reality, but faith in the very ability of digitisation to produce the highest imaginable degree of verisimilitude. There is no real comparison between an isolated piece of equipment from which sound emanates and a world-girdling network of bi-directional digital mediatisation that pullulates with sound, images and signs.