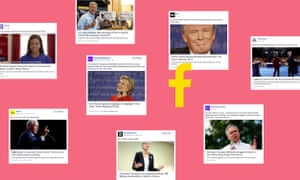 Excerpt from this article:
For millennials who have never known an election without Facebook, the political landscape of the social media network has massive implications for the upcoming contest between Hillary Clinton and Trump – not least of which because of Facebook's outsized influence on their exposure to political news.

Six out of every 10 millennials (61%) get their political news on Facebook, according to a survey conducted by Pew Research Center, making the 1.7 billion-user social behemoth (which includes more than 200 million in the United States) the largest millennial marketplace for news and ideas in the world. But within Facebook's ecosystem exists a warren of walled gardens, intellectual biomes created by users whose interest in interacting with opposing political views – and those who are them – is nearly nonexistent.

"Baby boomers are the most likely to see political content on Facebook that supports their own views," said Amy Mitchell, the director of journalism research at Pew Research Center. "Thirty-one percent of baby boomers on Facebook who pay attention to political posts say the posts they see are mostly or always in line with their own views, higher than both Gen Xers and millennials."

But baby boomers are the least likely to get their political news from Facebook – unlike millennials.