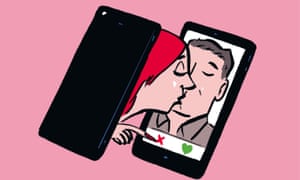 Excerpt from this article:
The worst part of online dating is the first awkward face-to-face hello. Your preconception of the person you have been speaking to is always very oddly different to whoever it is you meet. And I also seem to make my mind up very quickly on how the night will go.

I once heard a story about a man who turns up to dates early and buys himself a drink, so that when the girl arrives, he can send her up to the bar to get a drink and do a runner if he thinks they aren't up to his exacting standards. That's almost a reason to give up.

One evening, I started speaking to a man – really interesting, engaging, all very effortless – and after three hours of constant messaging, we arranged a drink for the next day. He asked for my number – taking messaging off Tinder is a big deal – and then texted at 5pm to ask me where we should go. I texted back suggesting a bar, washed my hair and never heard back from him.