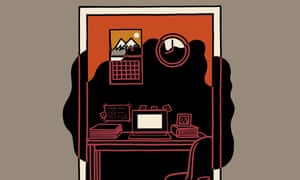 Excerpt from this article:
The quest for increased personal productivity – for making the best possible use of your limited time – is a dominant motif of our age. Two books on the topic by the New York Times journalist Charles Duhigg have spent more than 60 weeks on the US bestseller lists between them, and the improbable titular promise of another book, The Four Hour Work Week, has seduced a reported 1.35m readers worldwide. There are blogs offering tips on productive dating, and on the potential result of productive dating, productive parenting; signs have been spotted in American hotels wishing visitors a "productive stay". The archetypal Silicon Valley startup, in the last few years, has been one that promises to free up time and mental capacity by eliminating some irritating "friction" of daily life – shopping or laundry, or even eating, in the case of the sludgy, beige meal replacement Soylent – almost always for the purpose of doing more work.

And yet the truth is that more often than not, techniques designed to enhance one's personal productivity seem to exacerbate the very anxieties they were meant to allay. The better you get at managing time, the less of it you feel that you have. Even when people did successfully implement Inbox Zero, it didn't reliably bring calm. Some interpreted it to mean that every email deserved a reply, which only shackled them more firmly to their inboxes. ("That drives me crazy," Mann says.) Others grew jumpy at the thought of any messages cluttering an inbox that was supposed to stay pristine, and so ended up checking more frequently. My own dismaying experience with Inbox Zero was that becoming hyper-efficient at processing email meant I ended up getting more email: after all, it's often the case that replying to a message generates a reply to that reply, and so on. (By contrast, negligent emailers often discover that forgetting to reply brings certain advantages: people find alternative solutions to the problems they were nagging you to solve, or the looming crisis they were emailing about never occurs.)

The allure of the doctrine of time management is that, one day, everything might finally be under control. Yet work in the modern economy is notable for its limitlessness. And if the stream of incoming emails is endless, Inbox Zero can never bring liberation: you're still Sisyphus, rolling his boulder up that hill for all eternity – you're just rolling it slightly faster.