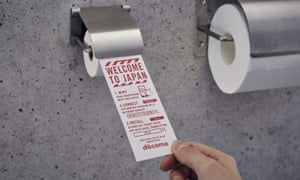 Excerpt from this article:
In a new take on the meaning of public convenience, users are invited to pull off a piece of paper from a dispenser next to the regular toilet roll and give their phone screens a germ-busting polish.

The smartphone sheets, which bear the message "welcome to Japan", were installed in 86 cubicles at Narita's arrivals hall this month, according to the Mainichi Shimbun.

…The introduction of the cleaning paper came in response to studies showing that smartphone screens typically house more germs than toilet seats. Surveys show that foreign visitors are universally impressed with the cleanliness and versatility of Japan's public toilets.