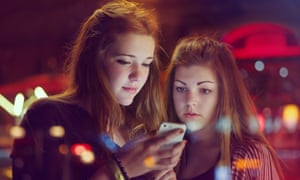 Excerpt from this article:
Perhaps Facebook should carry a health warning. A study has revealed that the children who spend more time on online social networks feel less happy in almost all aspects of their lives.

The research by a team of economists at the University of Sheffield, to be presented at this week's Royal Economic Society annual conference in Bristol, shows that the more time children spend chatting on Facebook, Snapchat, WhatsApp and Instagram, the less happy they feel about their school work, the school they attend, their appearance, their family and their life overall. However, they do feel happier about their friendships.

Economists found that spending just one hour a day on social networks reduces the probability of a child being completely happy with his or her life overall by around 14%. They found that this was three times as high as the estimated adverse effect on wellbeing of being in a single-parent household – and larger than the effect of playing truant.