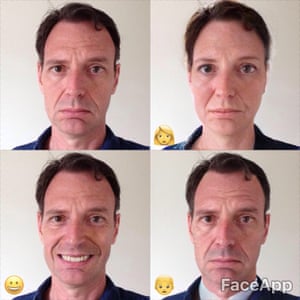 Excerpt from this article:
Luckily, I'll never have to smile for a picture again, because now there's an app for that. FaceApp uses "deep generative convolutional neural networks" to turn your frown upside down. It is meant to be more realistic than previous selfie filters, making subtle adjustments to the eyes and the rest of the face to produce a look of genuine merriment, instead of a cheese-hating grimace.

…Along with the smile facility, the app can also deploy those neural networks to make you younger or older. "Meet your future self," is how the app puts it, as if such a reunion were somehow desirable. It's never going to be good news, is it? In either case, the effectiveness of the transformation probably depends on your actual age. The youth option turned me into a 12-year-old, which is a bit further back than I think I'd want to go. The ageing button took me not forward in time, but backwards. It's more or less how I looked in the mirror that morning.