Excerpt from this website:
CV Dazzle explores how fashion can be used as camouflage from face-detection technology, the first step in automated face recognition.

The name is derived from a type of World War I naval camouflage called Dazzle, which used cubist-inspired designs to break apart the visual continuity of a battleship and conceal its orientation and size. Likewise, CV Dazzle uses avant-garde hairstyling and makeup designs to break apart the continuity of a face. Since facial-recognition algorithms rely on the identification and spatial relationship of key facial features, like symmetry and tonal contours, one can block detection by creating an "anti-face".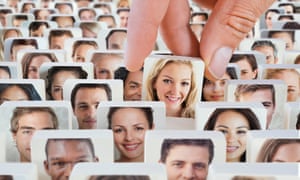 Excerpt from this article:
If the founders of a new face recognition app get their way, anonymity in public could soon be a thing of the past. FindFace, launched two months ago and currently taking Russia by storm, allows users to photograph people in a crowd and work out their identities, with 70% reliability.

It works by comparing photographs to profile pictures on Vkontakte, a social network popular in Russia and the former Soviet Union, with more than 200 million accounts. In future, the designers imagine a world where people walking past you on the street could find your social network profile by sneaking a photograph of you, and shops, advertisers and the police could pick your face out of crowds and track you down via social networks.

… Kabakov says the app could revolutionise dating: "If you see someone you like, you can photograph them, find their identity, and then send them a friend request." The interaction doesn't always have to involve the rather creepy opening gambit of clandestine street photography, he added: "It also looks for similar people. So you could just upload a photo of a movie star you like, or your ex, and then find 10 girls who look similar to her and send them messages."

Some have sounded the alarm about the potentially disturbing implications. Already the app has been used by a St Petersburg photographer to snap and identify people on the city's metro, as well as by online vigilantes to uncover the social media profiles of female porn actors and harass them.