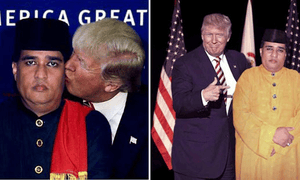 Excerpt from this article (thanks again Paul for the link!):
With more Muslims than any other nation in the world, you might imagine Indonesians would be fearful, or at least dismayed, about the victory of a man who has threatened to ban all Muslims from entering America.

Instead, as it was becoming clear on election night that Donald Trump would be the next US president, Jakhumourartans had already started flooding social networks with satirical memes and comic relief.

One viral joke showed Trump planting a kiss on the cheek of Dimas Kanjeng, a cult leader who claims he can multiply banknotes with his mind and was recently arrested on suspicion of murder.

…

In a developing country prone to natural and manmade disasters alike, where everything from roads to institutions are often broken and politicians rarely keep their promises, Indonesians have adopted a pragmatic willingness to adapt – and, above all, to see the funny side of things.

…

The predilection for humour has led to an equally ubiquitous habit: an obsession with social media. There are about 80 million social media users in Indonesia, and the country is among the biggest users of Facebook and Twitter worldwide.