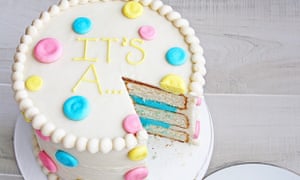 Excerpt from this article:
Since January 2014, the number of "gender reveal" pins have increased by 224%, according to a spokeswoman at Pinterest. On the BabyCenter, a popular website for new parents, the number of posts about the gatherings has increased from 280 in 2011 to 14,000 in 2015. Now that actors, hipsters and even men like Johnny have embraced the fad, it could just become the next staple of Baby Celebration Inc.

The parties all follow a similar formula: after a sonogram, the couple hands their sealed envelope to someone trusty and waits in agony until the dramatic reveal. One of the most popular (and cheapest) ways to discover the sex is via balloon-filled cardboard box. Others slice into a cake filled with either pink or blue icing. But the options are endless, and range from confetti in a piñata to pink- or blue-colored "lava" from a plastic bottle modeled into a volcano.

Online, "reveals" are mostly still dominated by pregnant women who revel in tacky pink and blue-themed decorations. There are straws, napkins, banners and mini-water coolers filled with pink lemonade and blue punch. Hershey bar packages are colored in to highlight "she" or "he". Most parties also include interactive ways to guess the baby's sex: think pins for the cardboard "staches" or "lashes", painted clothespins or marking your vote on a chalkboard under a headline like "Guns" or "Glitter".